MUSIC
Digital format options are high-quality .mp3, .flac or apple lossless and are supplied immediately upon purchase. Please note that for CD & Vinyl orders there are additional shipping and handling fees that are calculated based on your shipping address and order size. If you're having problems, email us –
info@sonicrecords.ca
.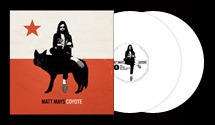 Coyote (Vinyl + CD + Digital)
White, double vinyl in a gatefold sleeve bundled with a CD in a paper sleeve. Also included is an instant delivery of the high-quality digital files.
$30 (USD) + S&H

Coyote (CD + Digital)
$10 (USD) + S&H
---
MERCH
* Please note: this store checks out seperately from the section above where albums can be purchased directly from Sonic Records. You can not bundle the items below with a cart started with the items above, and vice versa. Any questions relating to this section can be directed to
mattmays@store-08.com
, or by phone at +1-514-271-7848.